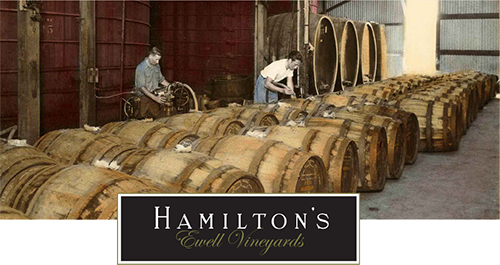 Hamilton's Ewell Vineyards' wines are steeped in tradition, with roots that can be traced back to the very foundation of South Australia's wine industry.
These premium wines are still proudly produced by South Australia's first family of wine, now under the careful guidance of Mark Hamilton, a sixth generation descendant of Richard Hamilton, who planted grapes within a year of arriving in the new colony of South Australia in 1837 and made the colony's first commercial wine in 1841.
To uphold the family's long-standing traditions and high standards, careful selection of grapes and winemaking finesse create wines that are true to the family's good name.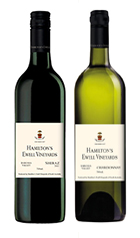 THE 'TRADITIONAL' LABEL
Hamilton's Wines traditional label is a living legacy of its history. It was created in 1929 when Mark Hamilton's grandfather Eric Hamilton, commissioned the iconic designer of the era, Witt Morro, to create the label.
Today it is proudly used as the winery's signature label to reflect Hamilton's heritage, tradition and long association with the wine industry in South Australia.
THE 'WINERY' LABEL
Hamiton's Ewell Vineyards winery label was designed by famous label designer Witt Morro in the 1930s after being commissioned by Mark Hamilton's grandfather Eric Hamilton.
While its striking etchings lend an age-old feel, over 80 years later, the label robustly stands the test of time. Today the tweeked design still exudes the strong cues of tradition, premium quality and fine craftsmanship.


CABERNET-SHIRAZ
This classic Australian blend has rich, ripe fruit characters, a good deep colour, fine tannins and exceptional finish.


SHIRAZ
This Shiraz has full sun-ripened fruit flavours, exceptional colour, fine tannins and a long flavoursome finish.

CHARDONNAY
Bursting with vibrant, sun-filled fruit qualities, this wine has a lusciously long palate.