Our Heritage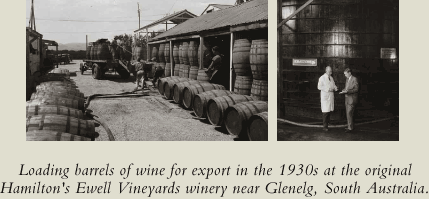 Hamilton's Ewell Vineyards Pty Ltd is a modern grape growing business with roots tracing back to the very foundation of the wine industry in the infant colony of South Australia in 1837 when Hamilton family forbears' Richard and Ann Hamilton, and eight of their nine children, arrived aboard the Katherine Stewart Forbes on 13 October 1837.
A Tradition in Wine
A charming 15 minute video detailing the 1968 vintage at Hamilton's Ewell Vineyards, featuring world famous French winemaker Maurice Ou, who was senior winemaker from 1945 until his retirement in1979.
Click here (2.2 Mb) for a snapshot of our history and heritage "South Australia's First Family of Wine is Born".
Descendants of Richard Hamilton
View a chart of six generations of descendants of Richard Hamilton [50 Kb PDF file]