Greenway's Vineyard - Lower Murray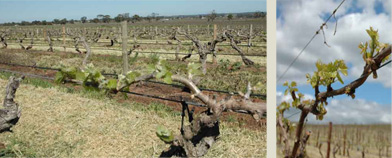 Greenway's Vineyard is located on the banks of the River Murray, approximately due east of Tanunda, in the Barossa Valley in the Lower Murray Wine Zone.
Because of its location, the Mean January Temperature is approximately 3.5 degrees cooler than in the Riverland; also enjoying late afternoon breezes up the river from Langhorne Creek direction during summer.
Located on red sandy soil over limestone, the quality is far superior to Riverland grapes, and locals assert, to fruit grown at Langhorne Creek.
Vineyard Location
Located near the township of Nildottie (via Walker Flat) on the eastern side of the River Murray on the same latitude as Tanunda in the Barossa Valley.
Plantings at a glance
Lower Murray
| Block | Variety | AREA | Est. yield | Expected harvest date |
| --- | --- | --- | --- | --- |
| CS01-3 | Cabernet Sauvignon | 3.74 Ha | 75 tonne | Mid February 2011 |
| CH01 | Chardonnay | 2.11 Ha | 40 tonne | End January 2011 |
| ME01 | Merlot | 2.05 Ha | 40 tonne | Mid February 2011 |
| SH01, 03 | Shiraz | 4.62 Ha | 90 tonne | Mid February 2011 |