Limestone Quarry Vineyard Wrattonbully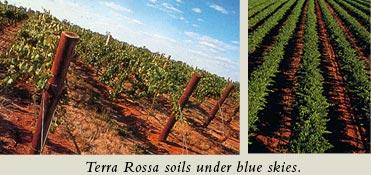 Wrattonbully sits on predominantly Terra Rossa soils - soils that have allowed neighbouring Coonawarra to produce many of the highest quality wines in Australia. However, being north, inland and 30 metres higher in altitude, Wrattonbully is warmer than Coonawarra, bestowing additional viticultural attributes including optimum ripening conditions and excellent disease and frost resistance.
We believe Wrattonbully wine has greater "sunlight" fruit characters, and we know our fruit achieves excellent ripeness and sugar levels consistently producing wine that exhibits full, ripe berry aromas and flavours.
Since its development over 1999/2000, the Limestone Quarry Vineyard has consistently produced premium fruit through diligent, world-class viticultural practice.
Vineyard Location
Limestone Quarry Vineyard nestles into the Naracoorte Ranges, 30 kms north east of Coonawarra and south east of Padthaway - the most central wine region of the "Limestone Coast".
Just 4.5 km east/north east of the famed Naracoorte Caves the vineyard is on Rochow's-Wray Road in the heart of the best and most intense vineyard plantings of Wrattonbully.
Click here (1.5mb) for comprehensive information including topography, soil, site layout and trellising, water and irrigation, viticultural practices and vineyard manager's notes for Limestone Quarry Vineyard.
Plantings at a glance
Wrattonbully
| Variety | Area | Est. Yield | Expected Harvest Date |
| --- | --- | --- | --- |
| Shiraz | 19.66 Ha | 250 tonne | Late March/early April 2011 |
| Cabernet Sauvignon | 41.04 Ha | 320 tonne | Late March/early April 2011 |
| Chardonnay | 7.13 Ha | 75 tonne | End Feb/early March 2011 |
| Merlot | 8.08 Ha | 75 tonne | Late March/early April 2011 |
| Sauvignon Blanc | 3.85 Ha | 55 tonne | End Feb/early March 2011 |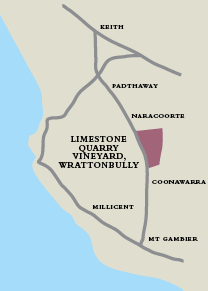 Viticultural Management
Hamilton's Ewell Vineyards applies local knowledge and expertise in vine training and irrigation techniques, pruning and canopy management as well as harvesting practice to achieve excellent results year after year.
Following the Hamilton's Ewell Vineyards philosophy of practicing sustainable viticulture; and growing fruit from balanced vines; the vineyard consistently produces crops of intensely flavoured grapes by setting moderate levels and encouraging canopy growth. Partial pruning allows for even flowering and ripening.